The Edge Effects podcast features interviews with scholars, scientists, activists, and artists who engage with questions of environmental and cultural change.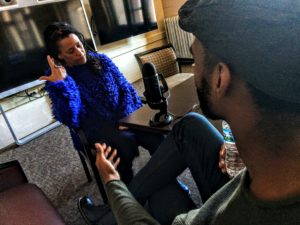 Enjoy wide-ranging conversations with writers William deBuys (The Last Unicorn), Carolyn Finney (Black Faces, White Spaces) and Lauret Savoy (Trace). Listen to legal scholar and cultural critic Jedediah Purdy (After Nature) ponder the future of environmental politics, and biologist Tyrone Hayes detail the politics of environmental science. Hear from distinguished environmental historians: William Cronon reflects on his Nature's Metropolis after 25 years, Adam Rome (The Genius of Earth Day) contrasts the 2017 March for Science with the first Earth Day in 1970, and Neil Maher (Apollo in the Age of Aquarius) details how the environmental and other social movements shaped the space race. And learn about the path-breaking research of CHE alumni Dawn Biehler (Pests in the City) and Andrew Stuhl (Unfreezing the Arctic).
Get the podcast sent straight to your mobile device or computer by subscribing through the iTunes store. You can also find it on Google Play, Stitcher, and TuneIn, or stream or download episodes directly on the Edge Effects website. If you enjoy the program, please leave us a rating and a review to help others find it.
Subscribe to
Edge Effects
Or subscribe with your favorite app by using the address below